Embracing the Spirit of Giving During the Jewish Fall Harvest
For those who observe, the Jewish Fall Harvest are a time for reflection and self-examination.  It's an opportunity to envision whom you aspire to be—and   how you might make a difference. At JFCS East Bay, we recommit to our values that inform our vision to build a community where everyone can flourish with dignity. We invite you to join us.
Give Based On Your Values
This year, we're proposing three meaningful ways to give based on your values:
Pursuing Justice: Give for What's Needed Most
$6,000 Match Available
Match made possible by Nick Gerson.
By offering unrestricted support, your gift goes where it is needed most. Your flexible donation will help us address urgent community needs, with a generous match to amplify your impact. Unrestricted support recently enabled us to improve our online client request process to better support clients and to provide wrap-around care services for our immigration legal clients and their families.
Being Responsible for One Another: Jewish Community Safety Net
$18,000 Match Available 
Match made possible by Victoria & Steve Zatkin, Deborah & Michael Sosebee and Sue Adler Bressler & Dave Bressler.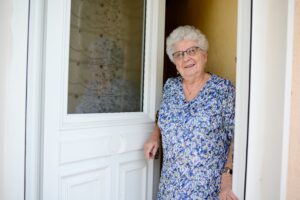 Your donation to the East Bay Jewish Community Safety Net provides vital support to individuals and families in the Jewish community facing challenging circumstances. Your support helps someone on a fixed income with unanticipated medical expenses pay their utility bill for a month or provide free, short term mental health services. And, your generosity will be matched 1:1, doubling the impact of your gift.
Welcoming the Stranger: Donate Gift Cards to those in Need
$5,000 Match Available 
Match made possible by a generous JFCS East Bay donor.
Donate gift cards to support the newcomers and other low-income community members we serve. Your contribution will provide practical assistance and comfort to those in need–and it will be matched to make an even greater impact. Gift cards empower clients with agency in their own purchasing.
Your support of JFCS East Bay affirms your commitment to the East Bay community. Whether you choose to offer unrestricted support, provide gift cards for our clients, or contribute to our Jewish Community Safety Net, you will strengthen our community.
Thank you for investing in vital community services through your partnership with JFCS East Bay. Wishing all who celebrate a healthy and joyful New Year.
If you have any questions or would like to discuss your donation further, please feel free to reach out to us at development@jfcs-eastbay.org. We would love to hear from you.