Justice, Justice! Your gift matched
At this fall harvest season and the Jewish holiday of Sukkot, how might we live the call for justice? How might we make the East Bay more welcoming for everyone? Join JFCS East Bay in building a community where everyone can flourish with dignity.
How Can We Welcome Justice into our Community?
Ensuring that Holocaust survivors can age in place safely in their own homes.
Helping low-income families with young children find ways for their school to meet their children's needs.
Assisting Afghan refugees who arrived in the East Bay with temporary residency status to stay legally in the United States.
Supporting LGBTI refugees with mental health counseling and home hosting.
JFCS East Bay's case managers, therapists, and social workers partner with our clients to help them find security and justice. And increasingly, we are working on a systemic level to advocate for a more just East Bay. 
Get Involved. Choose Your Way to Make a Difference:
Support What's Needed Most
$6,000 Match Available
Match made possible by Nick Gerson.
Your flexible donation helps us address urgent needs with an impactful match, including building stronger relationships with our community partners.
Jewish Community Safety Net
$18,000 Match Available 
Match made possible by Victoria & Steve Zatkin, Deborah & Michael Sosebee and Sue Adler Bressler & Dave Bressler.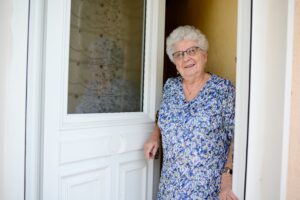 Double your impact with a matching donation and provide essential support for short term rent payments or utilities bills in a crisis for East Bay Jewish community members.
Donate Gift Cards to those in Need
$5,000 Match Available 
Match made possible by a generous JFCS East Bay donor.
Enable newcomers to purchase essentials to live in a new home. If you're inviting guests to your home or sukkah this season, please consider asking them to give a gift card, too!
No matter how you choose to give, you will help provide the shelter of peace to those in need in our community.
Wishing peace and justice to you and your family,